Tom Izzo: The Fan's Coach






My only question is, where the fuck did this past month go? March is my favorite month of the year. The weather in Michigan begins to turn around, the NBA and NHL playoff races heat up, baseball is right around the corner, St. Patrick's day, spring break (if you're a college student), and of course, March Madness.

It seemed like it was fucking yesterday that I was at the bar watching three games at once to kick off the opening round of the NCAA Tournament. Now we already have the Final Four in place? What in the blue hell did I do the last two weeks?

Oh well. The Final Four is set. I must say, this has to be one of the weirdest, most unexpected Final Fours in a while. The most ridiculous one probably came in 2000, when two eight seeds and a five seed some how got in. The favorite of the tournament was supposed to be Cincinnati, but they lost the best college player of that year (Kenyon Martin) to injury during the Conference USA tournament. Then all hell broke loose.

This season we have two five seeds (Butler, and my favorite college team, Michigan State), a three seed in West Virginia (a school that is not familiar with basketball success) and perhaps the worst one seed of the tournament, Duke.

This is Michigan State's sixth Final Four appearance over the last 12 seasons, more than any other school. Ever since the fourth appearance in 2005, Michigan State head coach Tom Izzo has been gaining more and more praise as one of the top coaches in college basketball. We all knew that after his National Championship run in 2000 that he was a great coach.

Izzo's tournament success is almost impenetrable at this point. The question is not how great Izzo is as a coach, but rather what we as fans should regard when it comes to measuring greatness in a basketball coach. I think the million dollar question simply this: Does Izzo's overwhelming post season success makeup for his good-at-best regular seasons, lack of Big Ten tournament championships, and limited ability to develop players to the next level?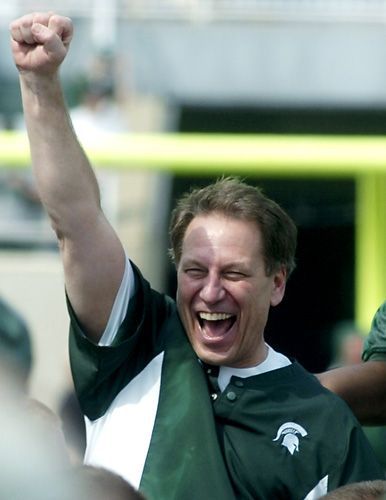 Tom Izzo coached the Spartans to their sixth Final Four appearance in 12 seasons

I love Tom Izzo. He has done a magnificent job at keeping the Spartans afloat for over a decade. Something that experts, fans, and analysts commonly overlook is the fact Michigan State has played in March every season since 1997. That's correct, the Spartans have not missed an NCAA tournament in 13 seasons.

Let that sink in for a second. Especially you, State fans. I will be the first to admit that I have taken this for granted. Every year when I fill out a bracket, my team is one of the 65. You cannot say that about North Carolina. Cannot say the same for Jim Beoheim and the Orangemen. Kentucky Wildcats? Not them either. The only other fans that have this bragging right are Jayhawks fans and Blue Devils fans.

It goes without saying that it is not easy making the dance season after season. Especially in this day of college basketball where top recruits bolt early for NBA money. Then there is scholarship confusion, which may prevent schools from promising prospects a spot on their team if they don't have enough scholarship money to hand out. Not to mention America's culture, where kids increasingly grow up with a bigger sense of entitlement, meaning that the eighteen year-old kids that come in expect to play major minutes right away, and get all pissy and egotistical when they find out that they are not the focal point of their team like they were in high school.


So Izzo makes the dance every season, a bragging right that only two other coaches (Bill Self and Coach K from Duke) share. It is a rare accomplishment. But then Izzo magnifies this trait with continuous success in the tournament. Forget about his three first round exits on his hands, the man also coached the Spartans to seven elite eights, six final fours, two finals appearance, and a national title. During Izzo's tenure, only four coaches are on that level of success:



Roy Williams: Four Final Four appearances, two national titles
Coach K: Four Final Four appearances. one national title
Jim Calhoun: Three Final Four appearances, two national titles
Billy Donnavan: Three Final Four appearances: two national titles


Imagine how many schools would trade their current coach for Izzo. Bill Self of Kansas just got dumped in the second round by a nine seed. The sports media has been grilling Self for the last week and a half. You think Izzo loses that game? Me either.

The University of Kentucky was an NCAA powerhouse on and off the past decade. Could never survive long enough to reach the Final Four. You think their fans would go bonkers if they found out that Kentucky hired Izzo?

I also remember Stanford constantly making the tournament as a high seed, ready to wreak havoc. Always had elite players, but could never could find a way to win a national championship.

So Izzo makes the big dance every year and has piled a tremendous track record of marching deep. This is a huge deal for fans, because after all, all us fans really care about are titles titles titles. My question is, how great of an all around coach is Izzo? Sure, he gets the W's, but is this good enough to be considered one of the greatest coaches of all time? Are there any hints of doubt that we can place on his ability to coach? Is Izzo perhaps in a better situation than most coaches, giving him an advantage over other coaches?

Maybe, yes, and yes.

For as much success as Izzo has had at winning, Izzo has had minimal success at producing next-level players. As I said, not that big of a deal from a fan perspective because of his W-L track record. However this trait is noticed when experts and analysts evaluate coaches from a historical aspect.

I remember watching a special on ESPN, which ranked the greatest coaches in all of sports. The greatest was Dean Smith, the head coach at North Carolina. The man only had two national titles to show for (which was less than Coach K, Bobby Night, Adolf Rupp, and John Wooden). One thing that put Smith ahead of the rest was his development of NBA players. After all, the man only coached Michael Jordan, Sam Perkins, James Worthy, Jerry Stackhouse, Bob McAdoo, Rasheed Wallace, Vince Carter, Antawn Jamison, and Billy Cunningham.

Looking at the four other coaches that I listed previously on Izzo's level, they have also had great success at developing NBA talent. And when I say talent, I mean talent. It's not enough just to get guys drafted and go to the next level. I'm talking about guys that actually make somewhat of an impact in the league.

Coach K: Grant Hill, Christian Laettner, Corey Maggette, Elton Brand, Shane Battier, Carlos Boozer, Luol Deng.
Billy Donnavan: Jason Williams, Udonis Haslem, Al Horford, Mike Miller, David Lee
Roy Williams: Kirk Hinrich, Raymond Felton, Paul Pierce, Raef LeFrentz, Greg Ostertag
Jim Calhoun: Ray Allen, Rip Hamilton, Emeka Okafor, Ben Gordon, Charlie Villanueva, Caron Butler, Rudy Gay<



Tom Izzo: Jason Richardson, Zach Randolph



What the fuck? Just two guys that lasted more than a few seasons and played regularly in the pros? When looking at drafted Spartans during Izzo's tenure, most of them failed to make significant careers. Even Mateen Cleave, the hero of the 2000 National Championship team, became a brief journeyman that struggled to get contracts. Other draftees like Paul Davis, Marcus Taylor, Alan Anderson, Erazam Lorbek, and Maurice Ager are all unknowns and afterthoughts in the NBA. Charlie Bell and Shannon Brown are the only other Spartans that play regularly with their respective teams.

Which brings me to my next thought, is it Izzo's fault that his players are not reaching their full potential, or is he getting mediocre talent that over achieves?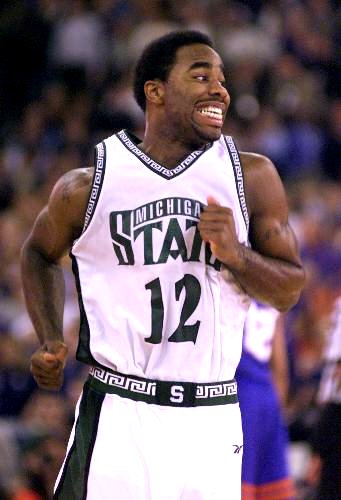 Mateen Cleaves was one of several Spartans that did not translate well into the NBA

I say both. When looking at guys like Paul Davis, who was considered the top big man in the country at the high school level, I think some of the blame comes on Izzo. When looking at a guy like Kelvin Tortbert (Who?), a guy that was ranked as the best player in the nation during his senior year in high school in 2001, and did not even get drafted, I think you might have to look at Izzo. Shannon Brown, a top 10 national high school player (tops in the state of Illinois) and is just now getting bench minutes after four seasons in the NBA, maybe some of that is on Izzo. Erazam Lorbek, one time considered a major European prize for Michigan State, never even played in the NBA.

To Izzo's defense, Brown, Lorbek, and Marcus Taylor all left college early. Had they stayed, they probably would have been higher draft picks, made more money, and probably would have earned more playing time because the bad team that drafted them needed them worse than a late first round team. Nevertheless, Izzo has recruited several top-of-the-line athletes that wind up going nowhere on the professional level.

Another advantage Izzo has over numerous other coaches is the fact that his job is easier than most places.

Woah, did I just say that? Coaching Michigan State's basketball team is easier than a place like UNC, Kansas, or Kentucky that receives millions of dollars in revenue and attracts more players based purely of their respective reputations?

Yes.

There are always two sides to a coin. Yes, places like Kansas, UNC, Duke, Kentucky, UCLA, Syracuse, Georgetown, Villanova, and many more have an advantage due to their excessive reputations that land them top-of-the-line players. On the other hand, with bigger fan bases, reputations to keep, and more money at stake, the pressure is much greater for anyone coaching those schools.

Take Kentucky for instance. Tubby Smith won a national championship there, got to the tournament on a consistent basis, and recruited countless McDonald's All-Americans. Then he struggled in the tournament for a few seasons, and fans started putting "For Sale" signs on his house as the local media constantly criticized him. He then resigned and sought employment at Minnesota. The man was and remains a great coach, but was not good enough to coach Wild Cat basketball.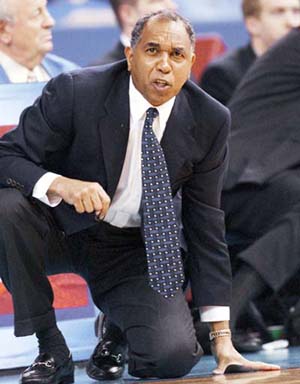 Despite his successes at Kentucky, fans were not satisfied with Tubby Smith

Does this ever happen at Michigan State? I don't think so. Although the school has had much more success in hoops and hockey, State fans for some fucking reason seem to care more about football than anything else. State fans are always getting hard ons in anticipation for the Michigan and Notre Dame football games (even last season when Michigan and Notre Dame were both terrible), but couldn't give a rats ass when the basketball team is about to play a ranked opponent.

How do I know this? Well first of all, I have lived in the State of Michigan for nearly 24 years. Secondly, Michigan State fans, students, and alumni are idiots. And third, I am basing a lot of this knowledge purely off of Facebook status updates. Every football season, all of my friends from Michigan State posted stuff saying how excited they were for upcoming football games, along with celebratory updates about how awesome it was because the Spartans won.

Basketball season? Aside from the die-hards, nobody from Michigan State said a thing until the team got to the Final Four (this was both last season AND this season). I may be being a bit facetious by using status updates to support my opinion, but seriously, the people that go to Michigan State don't give a flying fuck about their basketball team. Furthermore, the sports media doesn't even blink an eye when MSU basketball underachieves, when players leave early, or when any other hint of controversy surfaces. When State quarterback Jeff Smoker was going through alleged drug issues, it was talked about nearly every day despite the fact that his team did not matter.

Why is this important? Because I honestly believe had Izzo just won that one National Championship, and got eliminated around the second round or sweet sixteen every season, that he would probably still have a job. At worst, the morons on 97.1 and in the Free Press would criticize him once in a while, but would not make a big deal about his mediocrity. After all, Jud Heathcote never made another Final Four after 1979, and he coached another 18 seasons on his terms. In fact, i believe that last month was the first time I have ever heard anyone (Mike Valenti) criticize Izzo for not winning more Big Ten regular season and Big Ten tournament championships.

Another thing that Izzo benefits from is his location. He basically has a stranglehold over Michigan high school players, because the University of Michigan has been dead since the 1989 championship (people keep telling me about how the Wolverines had something called the "Fab Five" in the early 90's and made it to the NCAA Championship game in 1992 and 1993. However I looked in the record books at Michigan, and could not find anything about it. Strange huh?), which has lead to the majority of Mr. Basketballs (the honor given to the top player in their respective state) going to Michigan State. Of course Izzo has missed on a couple going to Michigan and out of state, but you cannot get them all.

On top of that, Michigan State is located in a good region to recruit Midwest players. They're too far west to lose guys to the Eastern schools like Duke, Georgetown, Syracuse, Connecticut, and North Carolina. State way too far East to lose guys to the PAC 10 powerhouse schools like Arizona, Washington, Stanford, and UCLA. The closest powerhouse schools to Michigan State are Pitt, Kentucky, and Kansas. However, all of these schools are far enough away to the point where Izzo can safely recruit in his own state and snag players from places like Indiana, Illinois, Ohio, and Minnesota.

Meanwhile, the schools close to Michigan (in the Big Ten in particular) take turns sharing the spotlight. Thus nearby competing schools are never able to build up a quality program to attract talent. The best example of this is Illinois, who lost coach Lon Kruger in 2000 to the Atlanta Hawks, and then Bill Self in 2003 to Kansas. I firmly believe that the same will happen sooner or later to Thad Matta of Ohio State, and am actually surprised that it has not happened to Izzo yet, who has allegedly received offers from various NBA teams and other quality college programs.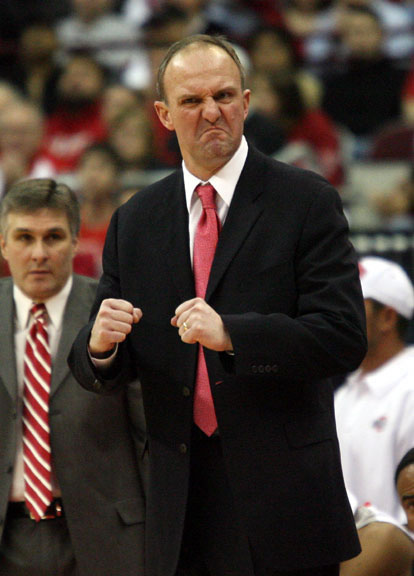 Thad Matta is a piece of shit.



To Izzo's defense on my last two points, it really is not his fault that he is in a good location and does not as much pressure as some of his peers to win. If anything, one could argue in favor of Izzo for knowing better than to take on a job at a bigger basketball school where the pressure is overwhelming. In a recent edition of "The B.S. Report With Bill Simmons", Simmons credited Gonzaga coach Mark Few for staying at Gonzaga where he could dominate his conference and make the tournament every season. Perhaps the same could be said about Izzo, who once again has turned down jobs on the professional level and at bigger basketball schools.

Overall, Izzo is a bad ass coach. He is a fans coach. He gives fans what they want, and delivers when it counts the most. State and college basketball fans will know him as a winner, as will die hards in the future who will look back in the record books and see all of Michigan State's accomplishments during his run.However, if you're looking to make it to the next level, would you play for Tom Izzo, or someone like Williams, Self, Beoheim, Tubby Smith, Matta, Donavan, or Pitino? I doubt we will see many NBA Hall of Fame players giving thanks to Izzo's coaching, or any NBA super stars like Magic Johnson coming back to East Lansing to watch games in person. And whether the fans care or not, ensuring that your athletes develop into quality players comes with coaching, which is something Izzo struggles with.