2010 NBA Finals Retrospect




The Los Angeles Lakers are the 2010 NBA World Champions, and we won't stop hearing about this for years. Forget the fact that this was the 12th Finals matchup between two heated rivals (Celtics Lakers), that this was only the fifth championship to be decided on game seven since 1984, and that both teams overspent for past-their-prime free agents (Ron Artest for the Lakers and Rasheed Wallace for the Celtics). This was go down as the championship run that solidified Kobe Bean Bryant's legacy as one of the greatest players to ever play in the Association.

Now before I go on more about Kobe, note that I am not comparing him to Michael Jordan nor Lebron James. In fact, is anyone really comparing Kobe to MJ anymore? Isn't that comparison like six years past dead? I thought that the debate was over in 2004, when Kobe disappeared against the Pistons in the NBA Finals*, as it was becoming clear that even if Kobe matched MJ's rings that he would always have Shaq's legacy glooming over his first three titles.

I think at this point it's more of the haters who are comparing Kobe to MJ than anything. It's as if Kobe's haters are looking for things to hate Kobe for, and since they're running out of shit to wag their fingers at, they always fall back on the "well, he's never going to be as good as Jordan". No shit, Sherlock. Nobody is ever going to be as good as MJ, so shut your fat faces.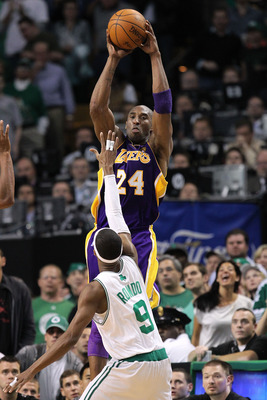 Good Game Seven or Bad Game Seven, Kobe Solidified his place in NBA History with a Fifth Ring



It's almost like when there is an unbelievably hot girl at a high school, college, or wherever. She is perfect in every way: has long, luxurious hair, beautiful bright eyes, natural double D breasts, naturally tan skin, plump ass, and a seductive smile. After every guy has decided that she is the hottest girl within miles, the jealous girls look for tiny flaws that don't matter. She's stupid. She's a bitch. She lacks a personality. She has been with x-amount of guys. She has no self-esteem. Her clothes out of style. Same thing with Kobe, people cannot seem to stand how great of a player he actually is, so they attack flaws that are irrelevant.

And now the Kobe fans have game seven to complain about. Some people are trying to argue that he should not be the Most Valuable Player of the series. He only scored 23 points. He had four turnovers. He shot 25% from the field. He choked. He's lucky that Artest and Pau Gasol had good games.

Here's where I take a shit on all of this nonsense. Kobe still had a double-double (23 points, 11 boards). He also had a double-double in game six. He was also tremendous with defending Ray Allen (13 points, 21%) and Paul Pierce (18 points, 33%). He was also wise enough to feed Gasol the ball late in the game, where Gasol drew a few fouls and got to the line, a situation where a player is not rewarded and assist for.

Also, for the whole "he's lucky his players backed him up" case, if those guys played well in game five when Kobe went off for 38 points (48% shooting), then there would not have been in game seven in the first place. It's pretty difficult to win a playoff game on the road when two of your best players (Artest and Gasol) combine for 19 points on 22% shooting. Let's not also forget the fact that Kobe was huge in the first two wins for the Lakers, putting up 30 and 29 in those games. So yes, Kobe is the most valuable player. The Lakers won. And he is officially one of the greatest players of all time. Suck on that, haters.

And yes, he is one of the greatest of all time. Even if he does not win another title (which is still a possibility), you cannot deny the fact that Kobe has five rings (two of which he lead), seven finals appearances, eight All-NBA First team nods (along with two second's and two third's), eight NBA-First team defense (along with two second teams), two scoring titles, and the 2008 MVP award. Also, just a reminder, he had seven final's appearances! These came in an eleven-year stretch. After all, if you were given the option of any player before the 2000 season, and you were told that Kobe's team would have a 63% chance of making the finals every season, wouldn't you take him? I thought so too.

And then there are the idiots who moan about the fact that Kobe road Shaq's back for his first three titles. That is somewhat true, but does Shaq win those titles without Kobe? I don't think so. He maybe wins one of those titles without Kobe, but definitely not all three. Am I the only one who remembers how close those Laker teams were to getting eliminated during those playoff runs? Portland almost took them out in 2000 (and Indiana definitely would have beaten a Kobe-less Lakers' squad), and Sacramento almost did the same in 2002. They did dominate the playoffs in 2001. However, a lot of people seem to forget how huge Kobe was against the Spurs in the conference Finals (dropped 45 in game one and 28 in game two). Do the Lakers knock off the Spurs in 2001 without Kobe? They probably could have, but I certainly doubt it.

Also, why is it that only Kobe gets the "he was lucky that he got to play with a superstar" treatment? Nobody ever says a word about how lucky Magic Johnson was to play with Kareem on the Lakers during the 80's. And what about Bird lucking out with the Celtics stealing Kevin McHale and Robert Parish from Golden State? Or John Havlicek playing with Bill Russell most of his career? And what if Ralph Sampson didn't get seriously injured and the Rockets won titles during the late 80's, early 90's, does Hakeem Olajuwon get that criticism? And to a lesser extent, Tim Duncan getting drafted by an already good team that had one fluke bad season?*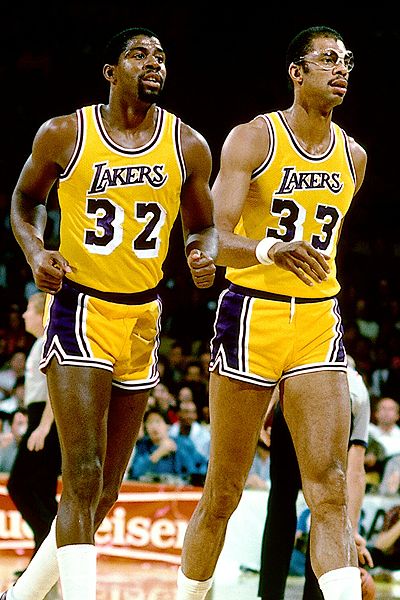 Kobe is not the only player that benefited from starting his career next to a great center



Bullshit. It's all bullshit.

When it comes down to it, 20, 30, or whatever amount of years from now, people will look back at the span between 1999-2012 in the NBA and think Kobe. He is this generation's greatest player. No disrespect at all to Tim Duncan (four titles and numerous other accomplishments), but this is Kobe's era.

That's all I had to say about Kobe. Other than that, this was an awesome finish to what was a lackluster NBA Playoffs. At the beginning of the playoffs, everyone was starting to count out Boston (a team that was on cruise control the entire season) and Los Angeles (a team that was becoming unglued, had a tough route to the finals, and Kobe receiving minor injuries).

I feel that after this series that Paul Pierce is one of the most under rated and unappreciated players of all time. I could not help but imagine if the Celtics had won the title, that many experts and fans would talk endlessly about how Pierce managed to top both Kobe and Lebron in the same playoffs for the second time in his career. After all, he was the best player on the Celtics while they were in championship contention. It's not his fault that prior to 2008 he was stuck on awful Celtics teams. Even Kobe went through the same thing. What do they both have in common? They both managed to drag atrocious squads to the playoffs on a consistent basis. In the irony of ironies, if I had to compare Kobe and Pierce to two players, they would probably be Michael Jordan and Scottie Pippen. And no, I am not making the argument that Kobe is in any way better than Jordan (or even on his level), but their skill sets, overall games, and personality are similar. Same with Pierce and Pippen. Both were phenomenal defenders, consistent long-range shooters, and although both have talent to be first-bananas on loaded rosters, their ideal place on a team would be as the second option. And if Kobe and Pierce were on the same team, they would probably take home most of the titles in a decade.

I also wanted to touch upon both team's offseason moves, and decide whether or not they spent their money wisely. I'll begin with the Celtics: they made a ridiculous offer to an over-the-hill Rasheed Wallace (just over $6 million a season). And although several national experts picked them as immediate favorites to win the Eastern Conference because of the addition, things turned sour as 'Sheed came into the season out of shape, unmotivated, and slacked off during the regular season. Then the playoffs came, he had a huge game in the Cleveland series, handled Dwight Howard (as always) in the conference finals, and provided Boston with a tremendous replacement for Kendrick Perkins in game seven.

And then……. He hit a crucial three down the stretch. Was that shot worth $19 million? I say no. I still think that this was Boston's last shot at a title, and they lost. I guess the signing is sort of similar to buying health insurance and never getting sick, then getting diagnosed with a terminal disease, and dying soon because there is no treatment or cure readily available. He helped out a little when it counted, but it still did not matter. Besides, locking up 12-13% of Boston's salary really restricted Danny Ainge (Celtic's General Manager) to sign any young talent or any guards so that the team can adjust to small ball when needed. This was of course fixed when Boston dealt for Nate Robinson, who proved to be a vital piece. On top of that, Boston already had three quality bigs in Garnett, Big Baby, and Kendrick Perkins.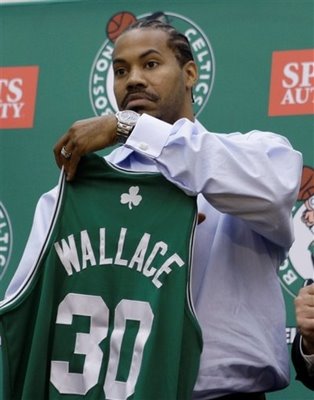 The Celtics may have spent a little too much dough on 'Sheed



On the other side, we have Ron Artest. Artest hit a $6 million shot of his own in game seven, which was an answer to 'Sheed's three on the other end. I must say that in Artest's case, he was worth the money. After all, the Lakers did end up winning a title out of it. But it's a little bigger than that. Artest actually started for LA, the Lakers needed a wing, and he had more big moments and big games than 'Sheed (Artest was huge in game six and game seven, helping shut down pierce and Ray Allen, providing a spark on offense, and his shot against the Suns in the Western Conference Finals will be on ESPN Classic for decades to come).

I can say this about Artest: he may have somewhat turned his career around with the victory over Boston. During the playoffs, he helped stop multiple offensive threats (Kevin Durant and Paul Pierce/Ray Allen specifically), he stepped up when it counted (game five in the WCF, games six and seven in the Finals), and he has a ring to add to his resume. Of course he will be fondly remembered for the brawl at the Palace of Auburn Hill more than anything, but at least he will be known as a valuable teammate who added to a championship team. 'Sheed will always be blamed for losing the 2005 NBA Finals, slacking off in the regular season for the Celtics, and does not have a championship ring to help his cause. The winners always tell the story. For Celtics fans, 'Sheed will be remembered as a guy who was unmotivated and out of shape for a 2010 runner-up. Nobody will be saying "Well, at least he was big in the playoffs", because the Celtics ultimately lost. And that's why he's not worth it, because nobody wants to pay $6 million for just a 2010 Conference Champions t-shirt.

* I cannot totally blame Kobe for struggling in the 2004 NBA Finals. He had to chase Rip Hamilton around the court through countless screens. Guarding Rip even killed Artest (reigning Defensive Player of the Year) during the Conference Finals. On top of that, Kobe was guarded by Prince, and settling for jumpers was not a bad idea considering that the Wallaces were protecting the rim. Just saying.
* I don't think the Spurs win the 1999 Championship without David Robinson. Duncan probably still wins a few, but definitely not the first one.