In case you have lived under a rock for the last four months, a lot of shit has gone down in the NBA. Several experts and analysts have called this upcoming season "the most anticipated season in NBA history". This may or may not be true.

In my opinion, the 1998-99 was the most anticipated season ever. After all, that shithead Michael Jordan was FINALLY out of the league for good (or so we thought). I believe that I speak for everyone when I say that we were all anxious for Jordan to retire. There were only fifty games that season, as opposed to the long, drawn-out 82 game season, which made things more exciting because each game mattered more. The 1998 draft was loaded, giving us fans a slew of exciting rookies and future NBA legends to watch like Vince Carter, Antawn Jamison, Jason Williams, Robert "Tractor" Trailer, Ricky Davis, and most of all, MICHAEL OLAWAKANDI!

And the '99 season did not disappoint: There were no stupid middle-of-the-season interruptions like a shitty dunk contest and a boring All-Star game. To top it all off, we were treated to a five game slugfest between the number one seed San Antonio Spurs and the worst team in the playoffs, the New York Knicks. 1999, the Golden Age of basketball!

However, I know that some people will not agree with me. Some people may in fact think that this upcoming season is the most anticipated in NBA history. Fair enough. To each their own. But here is what we do know:

-The obvious: Numerous stars and key players switched cities, causing a momentum shift amongst a lot of teams. Lebron and Bosh in Miami. Al Jefferson to Utah. Boozer to Chicago. Amare to New York. Shaq and JO to Boston.
-Much anticipated rookie class. Blake Griffin is coming into the season healthy with John Wall, Demarucs Cousins, and Derrick Favors. Whether or not these guys succeed right away, this has to be the most anticipated rookie class since the '08 season.
-Teams may not be done making movies. First Chris Paul wanted out, but is still in New Orleans. Carmelo refused to sign an extension with Denver, so now the Nuggets are looking to get something for him before he leaves them with nothing*. Depending on how the season plays out, both of these guys may be wearing different uniforms before February. Other key players such as Andre Miller, Devin Harris, Rip Hamilton, Tayshaun Prince, Elton Brand, Andre Igoudala, Josh Howard and Caron Butler may also be on the move at some point this season, as title and fringe contenders emerge, looking for additional help down the stretch.
-Kevin Durant is coming into the season after becoming the youngest scoring champion of all-time and dominating the FIBA World Championships. This season may likely mark the beginning of a huge stretch of Oklahoma City Thunder success, and the start of a rivalry between him, Lebron, and Carmelo.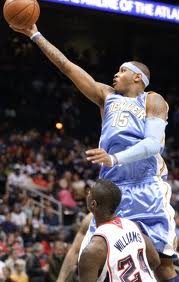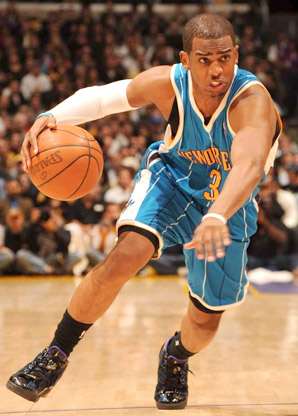 Carmelo Anthony and Chris Paul might be in different cities before the season is over.



*Why hasn't anyone learned after Shaq left Orlando back in 1996 that if a star does not sign an extension, and shows no sign of returning, to get what you can for him? I think Denver is doing the right thing by trying to get something for Carmelo Anthony. Look at what happened to Toronto: they did not get an extension from Bosh, and probably could have traded him to any team looking to make a playoff run last year. Perhaps to Portland for LaMarcus Aldridge, Oklahoma City for one of their young guys and some draft picks, to Atlanta for Al Horford or Josh Smith and some picks. Or with front office guys like David Kahn and Chris Wallace, they might have been able to sneak away with a quality big man in return like Al Jefferson or Zack Randolph. Besides, Chris Bosh isn't even a super star, and knowing some of today's GM's, someone would have given up way too much in return for him. Bosh might go down as this next decade's most over rated player, just like Tracy McGrady and Vince Carter did last decade. The irony: They all started their careers in Toronto, and the Raptors essentially got nothing for all three of them. Good thing they still have studs like Jose Calderon and Andrea Bargani.



Look forward to the lottery:

The following teams are almost locks for the lottery. Atlhough some of these teams may have a ton of young players, potential, and be fun to watch, their raw talent likely won't translate to a winning season. On the other hand, with the possibility of Carmelo Anthony and/or Chris Paul being traded, anything can happen to swing the fate of any of these teams.

Minnesota Timberwolves: The Timberwolves bring back a quality big in Kevin Love. However, they surrounded him with 1,000 swing men and no quality point guards. It's difficult to give mediocre wings looks when you don't have guy who can make plays for them. The good news: They have a legitimate shot at landing Brandon Knight!

Indiana Pacers: I mentioned earlier that Anthony/Paul can both swing the momentum of any bottom feeder team. But I doubt that either of these guys will call their agents and say "I don't care how much it takes, I want to play in the state where the klan was founded that has zero tourist attractions where I will constantly be in Peyton Manning's shadow!" Has anyone driven through Indiana? I stopped off at a rest stop there once and looked at a brochure. All it said was "keep driving". Best advice I ever received from a brochure.

New Jersey Nets: Almost set an NBA record last season for most losses. Did not add any big-time, game changing players. And draft pick, Derrick Favors, was said to be somewhat of a "work in progress" by almost every scouting. They have the assets to swing a trade, but I don't see them landing anyone significant in time to make a playoff run. At least they finally canned Lawrence Frank after last season.

Chernobyl Raptors: It seems like this team has blown up their roster multiple times, and any quality players who somehow land their end up leaving. More on this later.

Charlotte Bobcats: It's never a good thing when you lose your only interior defender (Tyson Chandler) and your starting point guard (Raymond Felton).

Washington Wizards: This team is a mess. They have a 1,000 point guards and no big men. And Gilbert Arenas continues to be a headache. The good news? I actually like the combination of John Wall with Flip Saunders. If this team can add some pieces, they might be a legit team down the road.

Golden State Warriors: Liked the move to bring in David Lee, and loved firing Don Nelson. However, they play in arguably the toughest division in the league and their lottery pick (Ekpe Udoh) is listed as their third small forward on their depth chart. Buckle up, Warriors fans!

Cleveland Cavaliers: Am I the only one that has noticed that there should be a bigger feud between Cleveland and Miami? The Florida Marlins beat the Cleveland Indians in seven games in the 1997 World Series. The Ohio State Buckeyes knocked off the Miami Hurricanes in 2003 for a National Championship. If you want to go state wide, Florida beat Ohio State for the National Championship for football and basketball in 2007. Lebron left Cleveland for Miami. And Cleveland got snubbed for the last season of "Jersey Shore". Poor Cleveland!



Could get lucky if everything goes right:

Detroit Pistons: I am really only putting them here for two reasons. First, I am totally biased. Secondly, there were so many fucking Eastern Conference teams in the previous section that it was becoming mathematically impossible to list any more East teams as automatic lottery teams. I like Rodney Stuckey, just not playing point guard. The problem? The Pistons have two other quality shooting guards in Ben Gordon and Hamilton. And I'm sure they did not sign Tracy McGrady to fill up dixie cups during timeouts. This team has a ton of weapons, just no point guards or playmakers to set them all up, and no interior defense. The bright side? Greg Monroe and Austin Daye showed promise during the pre-season, and Tayshaun Prince is one helluva trade asset.

Philadelphia 76ers: Pretty much the same as the Pistons: a ton of scoring options at the wings and no point guard. It also doesn't help that a good deal of their players are untradable.

Denver Nuggets: I put them here because the situation with Carmelo is still uncertain. If they hold onto him, they probably make the playoffs. If they ship him out, they probably won't make the playoffs. Simple math.

Sacramento Kings: Love the combo of Cousins and Tyreke Evans. However, they seem to have a bit of a front court logjam with Sam Dalembert and Carl Landry. Luckily for them, there is an overabundance of wings in the league that they could easily obtain in return for one of their bigs.

New York Knickerbockers: Was not a big fan of essentially trading David Lee for Amare. Mainly because Lee outperformed Amare is almost every statistical category last season, and because the Suns tried to deal Amare for numerous seasons. And he's injury prone. And he cannot play defense. And the Suns played an entire season without him in '06 and barely missed a beat. And because most players who played with Steve Nash declined after not playing with him. However, apparently they are still pushing for Carmelo, and I did love the Felton pickup.

Los Angeles Clippers: Kaman made a ton of improvements last season. Adding Blake Griffin this season should take some pressure of his back, but make the Clippers really powerful up front. They also have a stellar backcourt with Eric Gordon and Baron Davis. And coach Mike Dunleavy is not there anymore.

Memphis Grizzlies: This team sort of reminds me of the '02 Clippers: Notoriously horrible franchise with tons of promising young guys who gun for their own points. They looked solid out of the gate last season before falling apart. I have a strong feeling that the Gasol trade and Thabeet draft will forever haunt this team.

Houston Rockets: Let's see here: Yao Ming, Shane Battier, Kevin Martin, Aaron Brooks, and a thousand questions marks. Too tough to tell at this point.

Phoenix Suns: A lot of guys playing outside their positions. From the looks of it, it will be Robin Lopez, Steve Nash, and swingmen filling out the rest of the lineup. Should be fun and interesting. I was going to put them into the lottery, but you can never count out Nash. Never.



Eastern Conference Playoff Picture:

1. Boston Celtics: Why I put them here? They had a heartbreaking season last year. Let me show you the following teams who had heartbreaking seasons and how they responded the next year:

1988 Detroit Pistons: Lost to Lakers in 7 in the NBA Finals. 1989 Detroit Pistons: 63-19 (best record) and NBA Championship.

1990 Chicago Bulls: Lost to Pistons in 7 in the Conference Finals: 1991 Chicago Bulls: 61-21 (best record) and NBA Championship.

1996 Utah Jazz: Lost to Super Sonics in 7 in the Conference Finals: 1997/1998 Utah Jazz: Back-to-back Conference Championships.

2004 San Antonio Spurs: Lost to Lakers in 6 after a 2-0 lead and the Derek Fischer miracle. 2005 San Antonio Spurs: NBA Championship.

2005 Miami Heat: Lost to Pistons in 7 in the Conference Finals. 2006 Miami Heat: NBA Championship

2005 Detroit Pistons: Lost to Spurs in 7 in the NBA Finals. 2006 Detroit Pistons: 64-18 (best record).

2006 Dallas Mavericks: Lost in 6 to the Heat after a 2-0 lead in the NBA Finals. 2007 Dallas Mavericks: 67-15 (best record).

You get the point. Usually when a team suffers a heartbreak or an upset, they usually come back with a fury at some point the next season. Of course there are exceptions ('94 Knicks, '00 Blazers, '02 Kings), but I see this team playing their asses off in 2011. I know that this team is full of rich players who already have rings. At the same time, you must consider that a lot of these guys are thinking that this might be their last shot at winning something, and will be motivated to give it one last push. And with their depth up front, they should be able to set quality screens for Rondo, Allen, and Robinson, as well as win the majority of their rebound battles.

2. Miami Heat: We have not even tipped off the regular season and already the Heat are having injury problems. While I do not think they will be able to endure maximum minutes to land the top seed in the playoffs, this team will have the two best players on the floor in most of their games. And while they will likely control the tempo of most of their games, they will likely get killed on the glass and have trouble getting stops at points.

3. Orlando Magic: They were a three seed last season, and did not make any serious moves over the offseason. They have Vince Carter's expiring contract, which could be used to bring in a nice piece. I just do not see it happening.

4. Chicago Bulls: It appears that everyone has jumped on the "Chicago Bulls are legit!" train from the Boozer signing. I think I'm being generous when I rank them number four, considering that with adding Boozer, Korver, and Brewer, they're essentially the Utah Jazz for the last five years with Joakim Noah instead of Paul Milsap and Derek Rose instead of Derron Williams. A lot of their fate depends on how big of a leap Rose will make. If he makes the jump, so will the Bulls. I still think they will struggle coming out of the gate with Boozer being hurt. On the other hand, they play in the weakest division in the league, which should translate into a handful of easy wins.

5. Atlanta Hawks: Same team. Mortgaged future. They cannot run with any of the big dogs, but should remain competitive as a middle seed.

6. New York Knicks: Put it this way, I think the Bucks will make it for sure. I think the Knicks hinge on whether or not Carmelo comes to town. I think the bottom three teams could be anybody. It's just so difficult to tell because the rest of the East is so horrible right now. Any team that makes the playoffs 6-8 will only make it because they were less shitty than the rest, not because they were playoff quality.
7. Millwuakee Bucks
8. Detroit Pistons



Western Conference Playoff Picture:

1. Utah Jazz: Perhaps a little high, but I really like the Al Jefferson addition. They have a strong and deep enough front court to compete with any team, and still have the AK47 contract to turn into a quality asset to make them better. Imagine what this team could do with Igoudala, Hamilton, Prince, or Josh Howard.

2. Oklahoma City Thunder: I see them making the leap for sure. Best scorer in the league in Durant and one of the best young guards in Russell Westbrook. After all, these guys practically lead Team USA to a Championship this past summer.

3. Los Angeles Lakers: Of all the teams that have won back-to-back championships, only the 1998 Chicago Bulls were able to sustain a top seed during the regular season the following year. And even then, they were seven games behind the 1997 team.


Al Jefferson will give Utah a much stronger presence down low.

4. Dallas Mavericks: I dunno. It seems like after the Lakers that the rest of the teams are pretty much a tossup. Seriously, you could tell me that Dallas will be the fourth seed this season, or tell me that they'll barely miss the playoffs, and I would not be surprised. Nevertheless, of all the teams left, they have the best superstar in Dirk and added some quality defense inside with Tyson Chandler, giving them the best odds to secure home court in the first round.

5. Portland Trail Blazers: Had a ton of injury problems last season, but there still seems to be chemistry issues with guard Andre Miller. No matter what seed they are, I do not see them getting out of the first round.

6. San Antonio Spurs: I like the Duncan-Ginobili-Parker trio to give it one last push. I know that they did not win it all in 2009, but don't the Spurs have a habit of being successful in the odd years?

7. Los Angeles Clippers

8. New Orleans Hornets: I don't think Chris Paul will get traded because the New Orleans front office seems too stubborn. Furthermore, Paul is too competitive to let a talented roster crumble to the ground, much like the city itself. The addition of Trevor Ariza is huge, giving them a solid stopper on the perimeter.


The Playoffs:

I see the Celtics getting physical with Miami and knocking them off in six to win the Eastern Conference Championship. But one must wonder, with Lebron and Dwyane Wade both losing to the Celtics last season, how much revenge are both guys looking to extract? Either way, it won't be enough to stop Boston.

I see the Lakers barely getting through the Western Conference, knocking off the Jazz in the Western Conference Finals, continuing their domination over Utah.

In the Finals, I see Kobe securing his legacy by winning his second three peat, and a bunch of idiots making the argument that because Kobe has two three peats, he is on Jordan's level. Whether or not that's true, I think the Lakers will be the 2010-11 NBA Champions.



Awards
Most Valuable Player: Kevin Durant - Oklahoma City Thunder
Coach of the Year: Tom Thibodeau - Chicago Bulls
Rookie of the Year: Blake Griffin - Los Angeles Clippers
Most Improved Player: Al Jefferson - Utah Jazz
Defensive Player of the Year: Rajon Rondo - Boston Celtics
Sixth Man of the Year: Lamar Odom - Los Angeles Lakers