A while back, a friend of mine showed me a dating service called Geek2Geek - A haven in which nerds from all over the country and post and engage dating profiles via the Internet[1]. She suggested that I use the website to follow suit on my Best of Craigslist series. So I did.

[1]The internet is a network in which users can share files and information with the use of personal computers and other devices.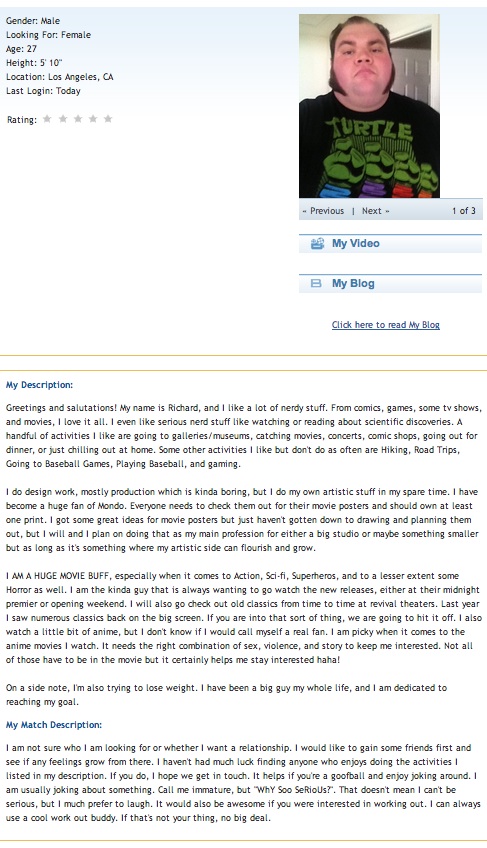 "I AM A HUGE MOVIE BUFF"

You are a huge everything. Dear God, is it even humanly possible to fit a full-size pic of you in that tiny box that Geek2Geek has provided?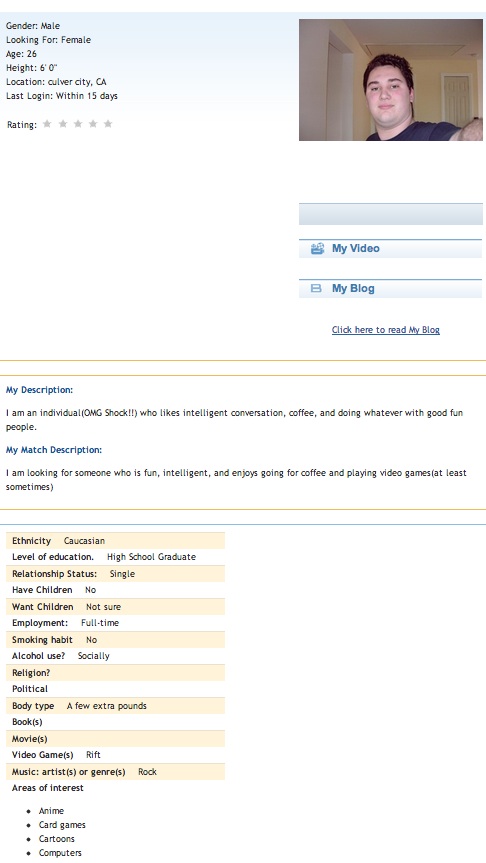 "I am an individual (OMG Shock!!)"

No, it's actually not shocking at all, really. No one person can be two different people. Even if one has multiple personality disorder, both personalities maintain the same living organism. Also, your match and personal descriptions are exactly the same. I think anyone with an IQ above 16 could figure out that you'd want someone whom meets your interests, idiot.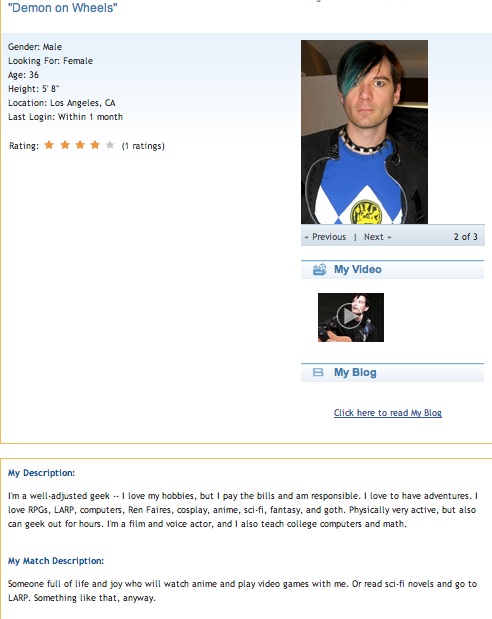 "Demon on Wheels"

You cannot have your slogan be related to a mythical creature whom by nature performs evil deeds when you're sporting a replica shirt of the biggest pussy in the Power Rangers.

Speaking of awful slogans...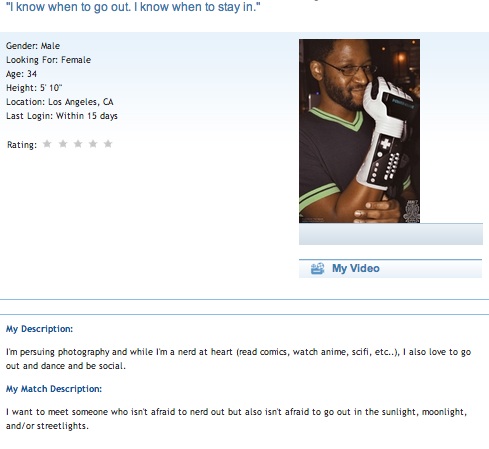 "I know when to go out. I know when to stay in."

That's not really a skill worth bragging about. I know when to stay in too: When the weather outside looks shitty and/or potentially hazardous. With a slogan like that, you're practically begging for a woman to waltz in and pussywhip the unholy shit out of you. Thankfully for you, you have that Power Glove. It will come in handy for the countless amount of times you will need to fap after every date you encounter leaves you with blue balls.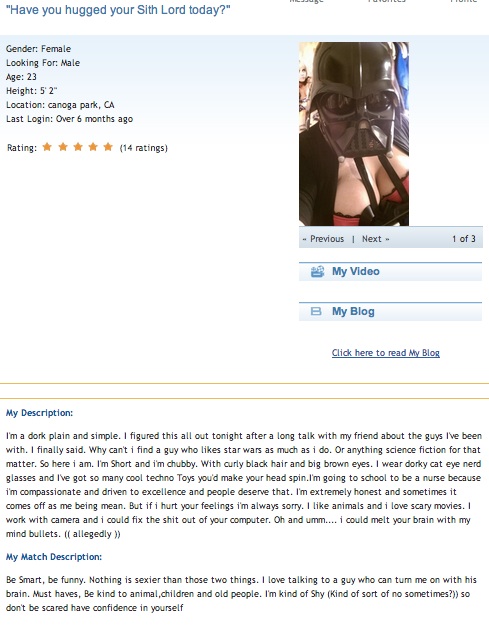 Well now we know what a Darth Vader-Jabba the Hutt offspring would look like.

"I'm a dork plain and simple"

You'd be surprised at how many morons begin their description by emphasizing about how much of a nerd they are. No shit, asshole. Hence the website name, Geek2Geek, it's assumed that you are a geek, pursuing geeks, and hoping to be pursued by geeks. No need to remind potential dates about how nerdy you are. It's a waste of time.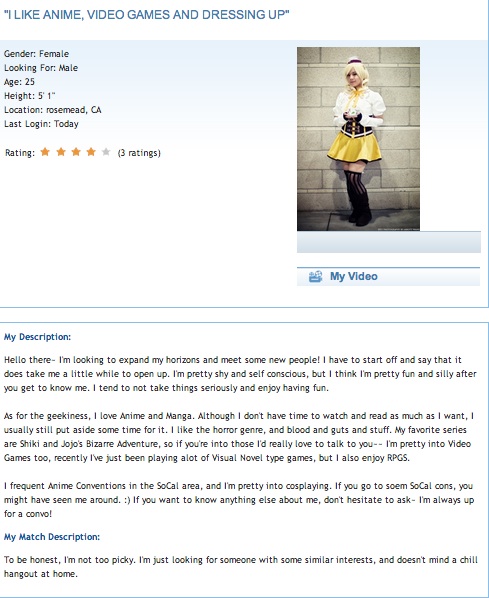 New rule for all dating websites: Don't post pictures of yourself that make you look like you're 12. The last thing I need to worry about on a date is whether or not Chris Hansen is going to pop out and ask me to take a seat. I know that your age says 25, but this picture makes you look half that. At least have a picture of you blowing out candles on an 18th birthday cake, or drinking a glass of wine. Anything to prove that I'm not going to jail if I show up at your house.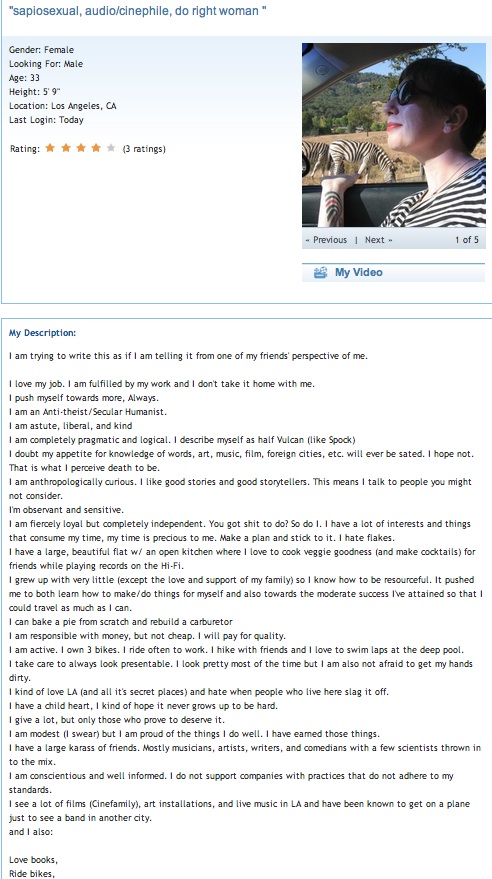 "Do right woman"

There's no such thing as a do right woman. And even if there were, they'd at least know how to construct a dating profile that efficiently attracts men. I don't want to read a fucking novel about your life story. I could not even fit your endless babble for a description in this screen shot. If you knew how to do things right, you'd condense that shit. Also, your picture makes you look like a psychopath. Are you trying to date guys or zebras?

Share on Facebook

E-mail
Home