The real reason why I am excited for Josh Smith




The Pistons' decision to sign Josh Smith has lead to very polarizing debates amongst Pistons fans, Detroit sports fans, and casual NBA fans on whether or not Smith will fit in Motown. People in favor of the move are excited to watch Detroit's big, athletic front line. Meanwhile, people who oppose to move think that Josh Smith will chuck bricks, hurt the Pistons on offense, and that Detroit perhaps mortgaged any future title contending hopes for a half decade mediocrity.

All of this debating, babbling, and mouth diarrhea is irrelevant. We will only know how well Josh Smith will work in Detroit after seeing the Pistons play next season. Not to mention, I'm certain that Joe Dumars is not finished making moves and adjusting the roster.

Nevertheless, I'm absolutely geeked. Not because I think that the Pistons will return to prominence, I always think that the Pistons will be good. I'm the same guy that thought Greg Monroe would be an 18 and 10 guy last year and that Jonas Jerebko would be a better, more defensive version of Hedo Turkoglu. Nobody is a bigger Pistons homer than me. Here is the reason why I am most excited for the Josh Smith signing:

The Detroit Pistons will have the best NBA Jam team for years to come.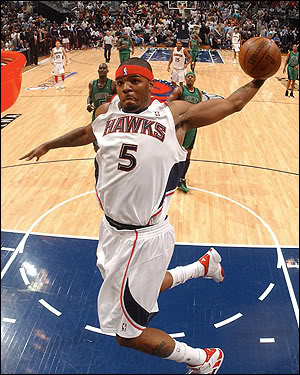 If there's one thing Josh Smith can bring to Detroit, it's monsters jams!



I don't even know where to begin describing how stoked I am for this. I have always loved NBA Jam and NBA Street. However, playing arcade hoops was always bittersweet because the Pistons never had a decent NBA Jam squad. In fact, they have always been horrible. They have never had an athletic, freaky dunker. They have never possessed a deadly three point shooter[1] . They have only had two skilled players ever: a speedy, ball handling passer in Isaiah Thomas in NBA Jam, and a shot blocker in Ben Wallace in NBA Street and NBA Street Volume 2. And even though the Pistons had Rip Hamilton and Chauncey Billups in NBA Street Volume 2 and 3, they were not respected enough at the time to have the polished skilled that they are remembered for from the Goin' to Work era.

[1]I guess I should not complain. Chicago fans were robbed for years of good arcade teams because Jordan was either playing baseball or had deals with other video games that prevented him from being in the NBA Jam series. By the time NBA Street came out, Bulls fans were stuck with Elton Brand and a handful of trash. On top of that, the original creator of NBA Jam was a Pistons fan, and made a cheat code that would cause the Bulls to miss shots late in close games.

Most teams always had at least one highly skilled player, or a combination of two players whose skills would compliment each other enough to compete. Even if the team was bad in the real-life NBA, they would still have a player or two to make them decent enough in NBA Jam or NBA Street. The mid-90's Charlotte Hornets were never a powerhouse in the real NBA, but with Larry Johnson and Alonzo Mourning, they could beat almost anyone in NBA Jam.

The Kings rarely made the playoffs in the 1990's, but with Spud Webb's on-ball defense and dunking prowess coupled with Mitch Richmond's shooting, you could make any game interesting with Sacramento.

The early 2000's Raptors are remembered as a mediocre team that thrived in a weak Eastern Conference during a weak era of the NBA. But with Vince Carter's explosive offense and Antonio Davis's toughness, you could go all the way with Toronto in NBA Street.

The Pistons never had a team that you would want to play with in an arcade sports game. Even during the Grant Hill years, Midway managed to make the most forgettable NBA Jam in history, NBA Jam 99[2] . The poor Pistons could never catch a break. Even the rookies team in NBA Jam: Tournament Edition with Jalen Rose, Grant Hill, and Jason Kidd was much more desirable than a Pistons team featuring Joe Dumars, Terry Mills, and Oliver Miller. NBA Street wasn't much better, with the Pistons rolling out an under rated Ben Wallace, a washed up Joe Smith, along with Jerry Stackhouse, Chucky Atkins, and Corliss Williamson to boot. When NBA Jam made a comeback in 2009, the Goin' to Work Pistons that made six consecutive Eastern Conference Finals along with an NBA Championship had just cleaned house, leaving the Pistons with the talents of Rodney Stuckey, Ben Gordon, Rip Hamilton, Tayshaun Prince, and Charlie Villanueva. No ball handlers, no shot blockers, and most notably, no dunkers. It was frustrating. Even the legends team of Isaiah Thomas and Bill Laimbeer were nothing to get excited over.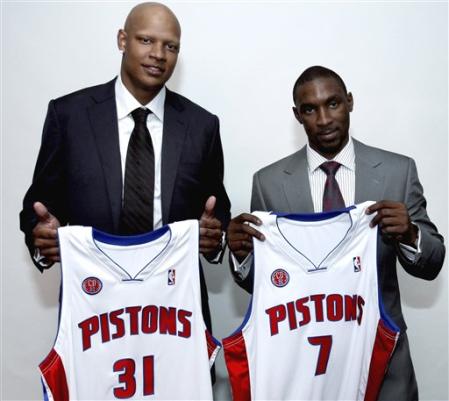 You're not gonna win too many games of NBA Jam with the 2004 UConn Huskies



[2]If you need to know how forgettable this game was, the cover of NBA Jam 99 was graced by Keith Van Horn.

Now? The Pistons have Josh Smith and Andre Drummond: Two frightening dunkers that can block shots, get steals, and one of which (Smith) can handle and dish the rock decent enough. Even Brandon Knight has impressive dunking abilities for a small guard, with enough range to be deadly when he's on fire. Add Chauncey Billups to the mix, who was surprisingly good in the last NBA Jam, and Detroit now has a force to be reckoned with. Aside from the Miami Heat, Oklahoma City Thunder, Houston Rockets, and maybe the Minnesota Timberwolves, is there any other team that you would rather be in NBA Jam?



Share on Facebook

E-mail
Home