NBA 2010-11 Playoff Preview




I am going to begin by completely removing my NBA Season Preview off my server, because it is so embarrassing that I doubt people will respect my opinion and judgement on sports from now on.

Prior to the season, I picked the Utah Jazz to have the best record in the Western Conference, and the San Antonio Spurs to be a sixth seed. However, I did not expect Deron Williams to be Jason Kidd 2.0 with his ability to butt heads with coaches and other key players. Furthermore, I think it is safe to say that with the steady decline of San Antonio since 2008, that nobody expected them to win sixty games this season. With that said, Gregg Popovich is my choice for Coach of the Year.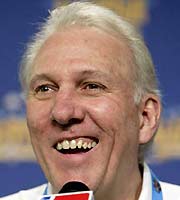 He may not look like George Clooney, but Coach Popovich is the best coach in basketball right now.



Other than that, I was not too far off.

This has been one eventful season. When else has three superstars changed teams within a nine month span? And yes, I said three because if Chris Bosh proved anything this season, it is that he is nothing more than an efficient jump-shooting power forward that cannot post up or guard anybody. If Chris Bosh were a superstar, Miami would be a top five favorite to win the championship this year.

Also, I love Derrick Rose. I jumped on the bandwagon when he was still in high school and everyone could not seem to get enough of OJ Mayo. For those who are unaware, OJ Mayo had been covered by national basketball publications since he was in middle school, because he moved to Kentucky while he was in middle school, a state where middle schoolers are allowed to play varsity high school basketball. People were billing him as the next Lebron James, a potential superstar in the NBA.

I loved following him. Then I watched clips of him on YouTube. Then I watched some clips of Derrick Rose and forgot who OJ Mayo was, and started telling everyone that Derrick Rose was the truth. I rooted hard for Memphis to beat Kansas in the 2008 Final Four, and was disappointed that Memphis lost, and was further disappointed when Rose was drafted by the Chicago Bulls, because this meant that in order to root for Rose I would have to root for one of the Piston's biggest rivals.

With all of that said, not even I thought that Derrick Rose would make the leap that he did this season. Even after the Bulls snatched Carlos Boozer, I was the first to doubt their title contention status, saying that "Really? Chicago is a contender? Even the Jazz could not win with Carlos Boozer while he was teamed up with Deron Williams, how exactly are the Bulls any better than the Jazz were?" Then Derrick Rose was like "Fuck ya'll" and decided that he wad the best point guard in the league. What a baller.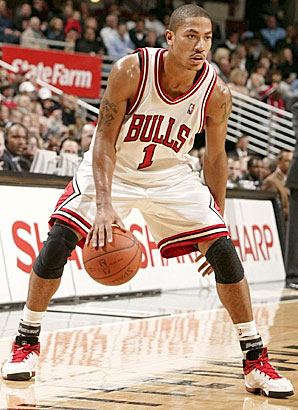 Derrick Rose was, is, and will always be the truth

Needless to say, Derrick Rose in my choice for the 2010-11 Most Valuable Player award. I think that the only other worthy candidate is Dirk Nowinski, who managed to drag an over-the-hill, passed-their-prime-of-a-roster Dallas Mavericks to the third seed in the Western Conference. Seriously, if you're a GM looking to improve your team, would you take any other players from the Mavericks besides Dirk, Tyson Chandler, or Jose Barea? When you're supporting casts consists of Jason Kidd, Jason Terry, Shawn Marion, Peja, Brendan Haywood, and Caron Butler, all of whom would not start on other title contenders, winning 57 games is no walk in the park.

Others may argue Kevin Durant, Lebron James, Amare Stoudemire, or Kobe Bryant. The Knickerbockers fell to the seventh seed, so Amare is out. The Lakers got off to a hot start, then slipped and struggled on and off throughout the season, so Kobe is out. And Durant and Lebron both had superstar sidekicks (Russell Westbrook and Dwyane Wade) who were both as important to their respective team's success. With all of that said, and considering that the Bulls had a coaching change, numerous roster changes, countless injuries this season, and still managed to own the league's best record is enough for me to give Rose the nod.


Let's begin with the Eastern Conference -


1. Chicago Bulls vs. 8. Indiana Pacers - Is this even a fair fight? Is there anyone on the Pacers that can guard Derrick Rose? Will Danny Granger manage to put up more than 25 on a Tom Thibedeau defense? I doubt it. This will be a massacre. Bulls in four.

4. Orlando Magic vs. 5. Atlanta Hawks - If Jerry Stackhouse, Vince Carter, Steve Francis, Antione Walker, Gilbert Arenas, and Rashard Lewis have taught us anything, it's that you do not hand out maximum contracts to guards who are not good enough to lead a team to an NBA title. Somehow, the Magic and Hawks both missed the memo. The difference? The Magic have the best center in the league, and the Hawks have nobody that can guard him. Magic in four.

3. Boston Celtics vs 6. New York Knickerbockers - I love the Knicks, and want them to win the Eastern Conference. For that reason, it kills me to say Boston in five. However, Madison Square Garden has not been hot in over a decade. If Carmelo plays his ass off on both ends, the Knicks could prove to be a handful for Boston at the Garden, so much so that this series could go seven games. But with the way Boston matches up with New York: KG on Amare, Pierce and Green and 'Melo, Rando on Billups, New York's inability to play defense as well as their weak front court, I think all New York will get his game three at home.

2. Miami Heat vs. 7. Philadelphia 76ers - This may be a tough matchup for Miami. Igoudala can give Wade and Lebron some trouble on defense, and Evan Turner has come on strong late in the season. I also think the Bosh-Brand matchup could be pretty interesting. Phili won't win, but it won't be easy for the Heat. Miami in six.

As odd as it sounds, I think that Orlando is Chicago's biggest worry. If Noah is not 100%, it may be tough for Chicago to match Orlando's front court. The Jason Richardson - Luol Deng matchup also scares me. On the flipside, Orlando does not have much of an answer for Rose or Carlos Boozer. I think that Chicago will survive Orlando, and destroy either Miami or Boston in the conference finals.



Western Conference:


1. San Antonio Spurs vs. 8. Memphis Grizzlies - Memphis has a pretty sneaky front court with Zach Randolph, Rudy Gay, and Marc Gasol. Their backcourt is not too bad either with Eddie House, Mike Conley, and OJ Mayo. Nevertheless, I don't see this team being able to stop Tim Duncan or Manu Ginobili. Besides, aren't the Spurs like 92-0 against Memphis in the playoffs? Regardless, the record will increase by four after this series is over. Spurs in four.

4. Oklahoma City Thunder vs. 5. Denver Nuggets - The Nuggets have been pretty interesting ever since Carmelo Anthony left town. They sort of remind me of the 2004 Pistons: A tough, rugged group of guys that were given up on by other teams that overachieve and work their asses off. Honestly, I cannot think of a worse first round matchup for the Thunder. I want the Thunder to win the west, but I also like the Nuggets for what they are. This should be an interesting series nonetheless. Thunder in seven.

2. Los Angeles Lakers vs. 7. New Orleans Hornets - I like Chris Paul and the Hornets, but I don't see them having much of a shot against the Lakers. If the Lakers win the title, they should thank fate for giving them the best possible first round team for them to face. Lakers in five.

3. Dallas Mavericks vs. 6. Portland Trail Blazers - The more I write, the more I love every team in the west. Quick tangent: Reason why I love every team

-Spurs - The classiest team in NBA history. They have always won by defense and team play (although Duncan's prowess is what has always put them over the top).
- Lakers, Hornets, and Mavericks- All three teas have players that I love - Kobe, Dirk, and Chris Paul
- Blazers, Grizzlies and Nuggets - Both rough, tough, overachieving teams full of guys that were under rated by other teams or given up on (namely Randolph, Gerald Wallace, Kenyon Martin, Ray Felton, Ty Lawson, Chris Anderson, Marc Gasol, Marcus Camby, LaMarcus Alridge) that win on hard work, Zach Randolph was a Spartan.
Thunder - Funnest team to watch in the NBA

Anyways, this series should be a fun front court and washed up point guards matchup to watch. I don't think that anyone on Portland can thoroughly guard Dirk, so I will go ahead and give Dallas the nod. Dallas in seven.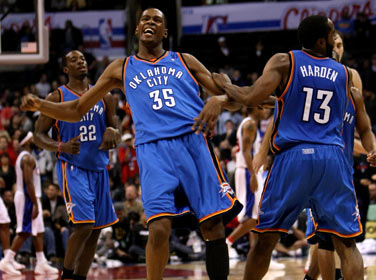 What non-Seattle NBA fan would not want to see the Thunder in the Finals?


Kobe has a serious habit of killing San Antonio in the playoffs, not to mention the Laker's front court will be too strong for the Spurs. I see the Lakers taking the Spurs in six, and Oklahoma City doing the same to Dallas. As far as the Western Conference goes, I think that Kobe and Durant will exchange blows, and the Lakers will continue to ride their front court over OKC to the finals.

As for the finals? Chicago could really use Noah up front to match the LA's front court prowess. Rose and Kobe will exchange blows, as will Boozer and Gasol. I want to pick Chicago because of their youth, defense, and home court advantage. However, I think that LA's experience and sheer talent will trump the Bulls. Lakers in seven.






Now with the awards -

As mentioned earlier, Popovich and Rose deserve Coach of the Year and Most Valuable Player.

I think that the Defensive Player of the Year Award should go to Rajon Rondo, who has been magnificent in perimeter defense all season, and leads the league in steals and grabs a decent amount of rebounds for only being six feet tall.

Rookie of the Year Honors definitely goes to Blake Griffin. If you need proof, just go to YouTube and search "Blake Griffin".

Sixth Man of the Year is debatable between Jamal Crawford, Jason Terry, and Lamar Odom. All three of those guys play vital roles to their teams and bring so much off the bench.

The Most Improved Player definitely has to be Kevin Love, who became an elite power forward this season by rebounding his way onto the Western Conference All-Star roster. And although his shooting percentage dipped a little, he managed to raise his scoring average by six point per game. It's too bad that he is on the same team that drafted four point guards in the 2009 draft and probably won't use any one of them.